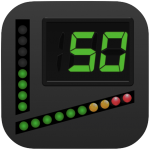 Overview
DIGITAL CRUISING is unique combination of GPS speedometer, odometer and trip meter with 80's taste digital meter design. In addition, this app has fuel manager, music player functionality.
This app is for…
Who likes such digital meter design
Your car's odometer does not work (please use this app as temporary use)
Your car's fuel meter does not work, or your car does not have fuel meter.
Functionality
Speedometer (km/h only)
Auto stop after several hours passed without moving
Odometer (You can set initial value, and change it)
Trip meter (A/B)
Digital lock
Fuel management
Fuel meter (calculate remaining fuel by using moving distance, fuel economy)
Fuel economy display
Automatic calculation of fuel economy (if you use fuel management functionality)(
Music player
Ver.2 what's new (May, 2020)
We have completely rebuilt for iPhone11 / iOS13.
The UI design and font in the meter panel have been changed.
The background design has been changed to recreate the dashboard and window exterior.
The lights are turned on and off depending on the time of day (sunrise and sunset).
The distance traveled is not added while walking after getting off the vehicle (using a motion sensor).
The automatic stop of measurement was changed to 1 hour to 10 hours later instead of 10 minutes later.
It is now compatible with the units of each country for distance, fueling and fuel consumption.
Ver.2.1 what's new (Jun, 2020)
Integrated with Spotify to enable music playback and control.
You can now choose either Apple Music or Spotify as your preferred music player.
NOTE
This app use GPS, and it will dramatically reduce device battery life, so please connect external power supply.
GPS is not always accurate due to device hardware sensor limitations.
Make sure that you have location services enabled for this app.
To enable it : Settings> General> Location Services