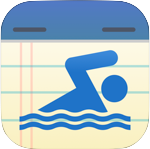 Latest Version : Ver 4.1.2
Feature
Swim Note is an application that keeps a record of swimming training. It will help tracking your daily swimming training history.
This application has the following capabilities
Workout : Training records management
– You can keep your workouts easily
– If you don't need to record workout minutely, only input distance of the workout
– Save your workout as a template
– Reuse previous generated record
– Customize the selection list of Style and Distance
– Share your workout via Mail/Twitter/Facebook
– Graph view of your workout history
– Save photos
– CSV export (Add-on required)
Swim Meet : Records management of swim meet
– You can manage records of swim meet
– Graph view of your time record
– Save photos
– Share the result via Mail/Twitter
– CSV export (Add-on required)
Where am I ? : Show your training status on a map
– The cumulative distance of training records are shown on a map as the route of actual two location.
– The start and goal location can be changed
– You can select cumulation method from within [ 1 year / 30 days / This year / all data ]
Others
– Multiple swimmer (up to 5) and team management
– Show statistics of workout / swim meet (best time)
– Calendar view
Usage
Online manual is available.
Ver 4.x What's New
– You can now manage multiple swimmers (up to 5 people). Along with that, it became possible to manage as a team (up to 5 teams. 1 team up to 5 people).
– The tab items at the bottom of the screen can be changed (Activity screen / Workout + Swim Meet / only one or the other)
– Calendar display tab has been added. View Workout / Swim Meet and add new ones
– Able to register photo in workout record, swim meet record
– It is possible to set "name" for workout (Please turn on "Set name of each workout")
– Added "Pool length * Lap" to the workout record input method
– In addition to conventional items (interval training and rest), "Time Trial" can be registered as an item of workout record. Only this can be registered up to 1/100 second.
– The classification (Short / Long / OWS) is enabled to be displayed when the swim meet list is displayed (Please turn on the setting "Show swim meet type in list")